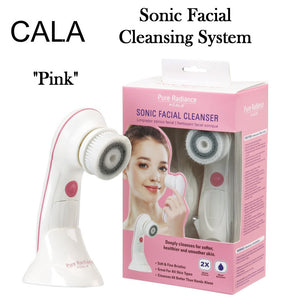 Cala Sonic Facial Cleansing System, Pink (67502)
Regular price $14.99 Sale
Cala Sonic Facial Cleansing System, Pink (67502)
The perfect brush for your everyday cleansing routine. Regular cleansing can help reduce signs of aging, improve skin texture, and give your skin an overall healthy, brilliant glow.
Exfoliating Sponge: Deep cleansing. Recommended use- one or twice a week.
Soft Bristle Cleansing Brush:
Help to remove dirt, oil, and makeup. Thoroughly cleanses while gentle enough for everyday use.
Silicone Messaging Brush:
Uniquely suited for sensitive skin, this brush is ideal for removing blackheads and excess buildup.
Skin Type: 
Normal, Dry, Combination, and Oily
Solutions for:
✔ Deep Cleansing
✔ Gentle Exfoliation
✔ Cleanses Pore
✔ Removed Makeup