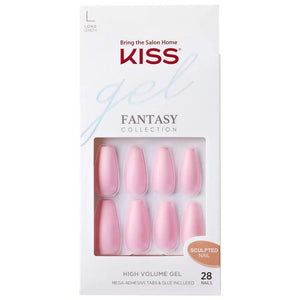 KISS Gel Fantasy Full Nails - KGFS102S Beautiful Moment
KISS Gel Fantasy Full Nails - KGFS102S Beautiful Moment
High volume ready-to-wear gel nails with a high arch just like salon sculpted acrylic false nails! These are durable, flexible, comfortable, and take minutes to apply!

Includes 28 nails, Pink Gel Glue (2g), Manicure stick, Mini File
KISS Gel Fantasy Sculpted Nails - Like the high arch look of salon sculpted acrylic false nails, but these ready-to-wear versions are not high maintenance at all! in trendsetting colors, in long coffin and stiletto shapes, these babies are yours in minutes.
With a glam shape and longer length, your hands are ready for a nailfie, just like that
PREP: Clean nails with nail polish remover and wash hands thoroughly with soap; select correct size nail for each finger and set aside in order. Nails are sized by number, noted underneath nail.
GLUE: Apply glue to back of artificial nail. Apply glue to natural nail. Align with cuticle, gently press on & hold for 5 seconds.
EXPERT TIP: Apply enough glue to avoid air pockets, secure adhesion, and extend wear.
REMOVAL: Trim & file surface to disrupt protective top coat. Soak nails in acetone polish remover until soft. Wipe off softened nails & glue. Do not force or pull nails off.
For glitter nails: Glitter may cause an uneven edge; use enclosed file to gently file smooth.