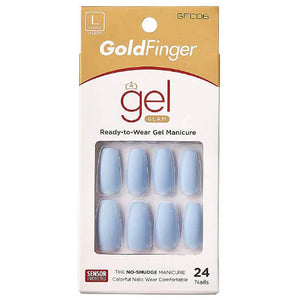 Gold Finger Gel Glam Full Nail - GFC06 Matte Baby Blue Coffin
Gold Finger Gel Glam Full Nail - GFC06 Matte Baby Blue Coffin
Glam your nails with this ready-to-wear gel manicure! Gold Finger's Gel Glam Manicure GFC03 comes in a matte navy stiletto-tip style. These glue-on nails give you comfortable wear for up to 7 days. This stylish manicure is perfect for every-day wear.

Features:
Matte Finish
Ready-To-Wear
Gel Manicure
No-Smudge
Comfortable Wear
Glue-On
7 Day Wear
Directions:
Prepare your nails: Clean nails with polish remover. Select correct size nails for each finger.
How to apply: Apply glue to nail. Apply thin layer of glue to natural nail. Starting at cuticle, press on and hold for 5 seconds.
How to remove:
Do not force or pull nails off. Trim and file surface to break through protective topcoat. Soak nails in acetone based polish remover until soft. Wipe off softened plastic and glue.