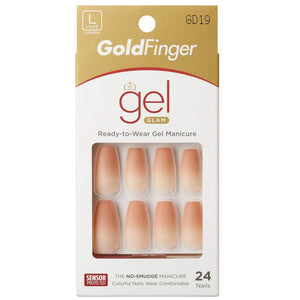 Gold Finger Trendy Full Nail - GD19 Bare Minimum
Gold Finger Trendy Nail Tips - GD19 Bare Minimum
This luxury press on nail set by Kiss is sure to turn heads with its bright color and stiletto matte finish. These nails are easy to apply and look just as luxurious as a set you'd get in a salon. Everyone will be wondering what salon you visited to get your nails done!
Everyday Wearable Color Nails
Ready-To-Wear Gel
24 Nails
Glue Included
How to Apply:

Clean nails with acetone polish remover and wash hands thoroughly with soap; select correct size nail for each finger and set aside in order. Nails are sized by number, noted underneath nail.

Apply glue to back of artificial nail
Apply glue to natural nail.
Align with cuticle, press on & hold for 5 seconds
How to Remove:

Do not force or pull nails off.
Trim and file surface to disrupt protective top coat.
Soak nails in Kiss All or One Artificial Nail Remover or acetone polish remover until soft.
Wipe off softened nails & glue.