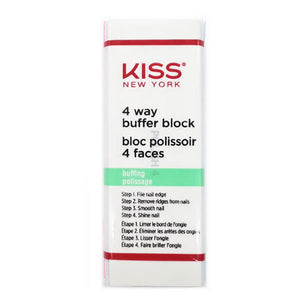 Kiss 4 Way Buffer Block (SB304)
Kiss 4 Way Buffer Block (SB304)
Kiss New York's 4-Way Buffer Block shapes, smoothes and shines your nails with its multipurpose design. Each side is layered with a special file that allows you to manicure your nails in a 4-step process. This buffer block is lightweight and easy to hold so that you can file your nails on the go!
--
Features:
Full Buffer in One Block

Files, Smoothes, and Shines Nails

Usable on Acrylic and Natural Nails

Lightweight

Travel Size

Durable Design
Directions:
File your nail edges with the pink-colored side first. Next, remove nail ridges with the green-colored side. Then, buff the top of your nails with the blue-colored side. Shine your nails with the white-colored side last. Your nails are now fully buffered!