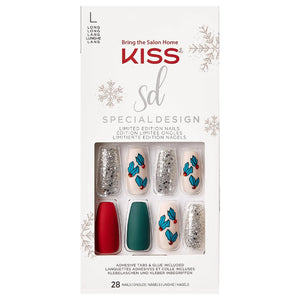 KISS Special Design Full Nails - SD10X Snow Balls
Give or wear the gift of beauty! KISS Special Design Limited Edition Holiday Nails are ready to wear, in festive colors with holiday motifs ranging from cute to super glam.
2 ways to apply: glue or adhesive tabs (both included)

Nails wear for up to 7 days

Kit contains: 28 Nails, Pink gel glue (2g), Mega-Adhesive Tabs, Prep Pad, Mini file, and Manicure Stick
New and exclusive Holiday nail designs are HERE! We're celebrating with a curated collection of festive ready to wear false nails that take minutes to apply, and removal is hassle free.
Natural look and feel

Durable, flexible & super comfortable

Chip proof, smudge proof, & no dry time!

Waterproof nails withstand frequent handwashing
PREP: Clean nails with nail polish remover and wash hands thoroughly with soap; select correct size nail for each finger and set aside in order. Nails are sized by number, noted underneath nail.
ADHESIVE TABS: Nails and Adhesive tabs have sizes. Select tab that coordinates with selected nail size & peel off sheet. Apply tab to natural nail, press & smooth; peel off film. Align nail with cuticle and press down firmly in the middle, then on each side. Press nails down several times; avoid contact with water for the first hour. REMOVAL: Apply polish remover around edges, wait 1 minute and gently peel off nail from sides.

GLUE: Apply glue to back of artificial nail. Apply glue to natural nail. Align with cuticle, gently press on & hold for 5 seconds. EXPERT TIP: Apply enough glue to avoid air pockets, secure adhesion, and extend wear. REMOVAL: Trim & file surface to disrupt protective top coat. Soak nails in acetone polish remover until soft. Wipe off softened nails & glue. Do not force or pull nails off.

For glitter nails: Glitter may cause an uneven edge; use enclosed file to gently file smooth.