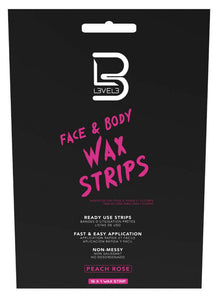 L3VEL3 - Face & Body Wax Strips
L3VEL3  FACE & BODY WAX STRIPS
Level 3 Face & Body Wax Strips remove unwanted facial hair quick and easy without any mess in just minutes - just rub and peel. Specially formulated to remove hair from the roots, the wax strips are strong on your hair, gentle on your skin. Enjoy up to four weeks of beautifully smooth skin and get fewer, finer and softer hairs growing back after repeated uses. Suitable for all skin types, including sensitive skin and delicate facial areas. Thanks to our wax strips, you can achieve silky-smooth skin in minutes, whether or not you're a waxing pro. The strips are ready to use and remove unwanted hair from the root for up to four weeks of smoothness. They're suitable for large body areas and precise facial waxing, even on sensitive skin.

Key Features

Pre-waxed strips, ready to use for fast and easy application with great results

Flaunt up to four weeks of smooth skin then softer, finer hair regrowth

Strips remove unwanted hair from the root while being gentle on skin

Suitable for sensitive skin, delicate facial areas, and precision hair removal

No mess, no additional tools needed, great for travel, home, and salon use

Removes unwanted hair from the roots

Quick and easy results with no mess

Flexible wax stripes for precise application

Repeated use leads to fewer hairs growing back

Includes: 16 facial wax strips
Why It's a Game-Changer
Our hair removal wax strips are ridiculously convenient. You just apply, rub, and peel to reveal super-smooth, hair-free skin. You won't waste any time mixing or melting wax. You'll also get better and longer-lasting results than with shaving. The strips are flexible, allowing you to get at small and awkward areas such as the upper lip, underarms, arms, legs, and bikini line. If you spot a few stray hairs between full waxes, whip out a strip for a quick touch-up!

Compact and hygienically wrapped, our hair wax strips are also great for travel. Slip them in your backpack or suitcase in case of hairy emergencies. The mess-free application and zero clean-up time means you can wax whenever, wherever. At home, you can get smooth before a hot date or work waxing into your self-care regimen. In the salon or barber shop, you can offer clients a professional service and perfect results.

Our wax strips for legs, body, and face leave you smooth for up to four weeks. Used regularly, they promote softer, finer regrowth and leave you with fewer hairs to handle. 

How to Use

For best results, ensure the skin is clean and dry

Rub the wax strips between your hands to warm them up

Place the strips on the desired area and press down

Massage the hair into the strips then peel off
Warnings: Wax strips can be used on the face, upper lips, cheek, chin, legs, arms, underarms, and bikini line only. Do not apply to irritated skin, veins, scars, varicose veins, sunburnt, or moles. Do a spot test and see how your skin reacts after a few minutes. We recommend doing a spot test and wait 24 hours to make sure there are no unexpected reactions.