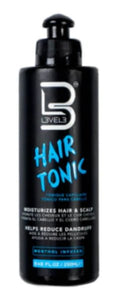 L3VEL3 - Hair Tonic
L3VEL3 HAIR TONIC
Solve your dry-hair woes with our nourishing, refreshing hair tonic for men and women.
If your hair is dry, dull, and generally unhappy, it's time to step up your grooming game. Level 3 moisturizing hair tonic rescues damaged hair while adding a menthol-fresh fragrance. Packed with botanical extracts, this wonder stuff adds softness and shine; repairs breakage; soothes a dry scalp; helps to reduce dandruff; and supports healthy hair growth. Castor oil is in the formula too, to leave hair hydrated and smooth. This refreshing menthol hair tonic is an ideal finishing product for home and salon use.
Key Features
Multitasking hair and scalp tonic infused with zingy menthol for a fresh impact
Unique botanical blend plus castor oil to moisturize and nourish hair and scalp
Softens hair, adds shine and volume, repairs damage to promote healthy growth
Soothes and hydrates dry scalp to reduce itchiness, flakes, and unsightly dandruff
An excellent finishing product for home and barber shop, men and women
Why It's a Game-Changer
Level 3 hair tonic is for women and men who want healthy-looking locks and a flake-free scalp. The botanical formula rescues dry, dull hair by adding shine, softness, and volume. It helps to repair damage and split ends, so hair can grow stronger over time. The ingredients also soothe and moisturize a dry, irritated scalp to help reduce dandruff. Meanwhile, the perky menthol scent leaves hair smelling fresh and lifts the senses!
There's an amazing blend of botanicals in our hair tonic for dry hair. Each ingredient is carefully chosen for its naturally restorative properties. Looking to add shine and moisturize dull, coarse locks? Fennel, hops, and castor oil have got you covered. Want to strengthen, repair, and protect your hair to encourage growth? Our tonic contains horse chestnut, yarrow, chamomile, and mistletoe leaf which do just that.
Not just for upgrading hair, this is an incredibly nourishing scalp tonic too. Fennel, hops, and lemon balm combine to soothe irritation and reduce unsightly flakes. The tonic is easy and enjoyable to use, too; just massaging it in feels like an indulgence. As a bonus, this Lv3 hair tonic is infused with menthol. It leaves your hair with a fabulously fresh scent that makes you feel so darn good.  
Whether you're looking for a shine tonic or a hair tonic for dandruff, this formula simply works. It suits men and women and is so easy to use that you don't need pro skills. Finish off your style with this L3VEL3 product, and you'll have fresh-hair confidence for real.
6.76 fl. oz. (250 ml)
How to Use
Start with clean hair and apply directly to the scalp
Massage the tonic into the scalp with your fingertips
Do not rinse out – leave it to work all day long
Works Great With…
The perfect style starts with clean hair, so lather up with L3VEL3™ 2 in 1 Shampoo and Conditioner. It cleanses without stripping the hair's natural oils, then nourishes to leave hair super-soft and ready to style.