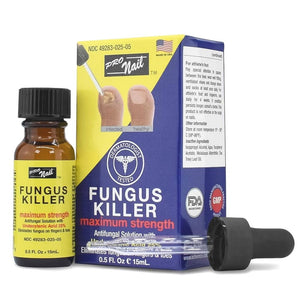 Pro Nail Fungus Killer
Pro Nail Fungus Killer
Maximun strength fungus treatment: ProNail Fungus Killer is a maximum strength fungal treatment that prevents and treats most forms of fungal infections on nails, toes, and feet.

Dermatologically tested OTC formula: It kills Toenail Fungus, Athlete's Foot, Ringworm, and Jock Itch, while soothing and relieving burning, itching, and irritation associated to those fungal infections. It is infused with Tea Tree Oil and Vitamin E to help sooth dry irritated skin and prevent further infection.

Healthy beautiful nails: A non-oily clear formula that dries quickly and has no unpleasant odor. Easy to apply with a brush applicator. Vitamin E is a powerful antioxidant that nourishes, hydrates, and stimulates growth naturally.

Pronail – Maximum Strength Fungus Killer is made without: Our product is Paraben-Free, Sulfate-Free, and Cruelty-Free. We never test on animals.

Proudly made in the USA: All our products are made in the USA and specially made with the highest quality ingredients. We have had the privilege of globally participating in the personal care industry since 1987.
Weight: 0.5 oz