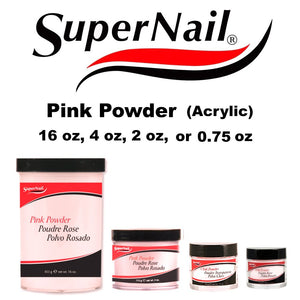 Supernail Acrylic Powder (Pink) 0.75oz. / 2oz. / 4oz. / 16oz.
Regular price $49.99 Sale
Please be sure to select the correct size from the drop-down menu before placing order
Finely milled Acrylic Powder makes for smooth application and minimal filing. Rich pigments give even color payoff
Combining the latest technology in chemical composition, this advanced formula uses pigments and high-tech polymers with controlled particle sizes to create our best-performing Acrylic Powder yet. Advanced adhesive properties and exceptional hardness and strength with no crystallization results in an ultimate scratch resistant, durable surface. SuperNail extra fine Acrylic Powders create strong, beautiful, brilliant nails every time.
How to use:
After the nail has been prepped and primed, dip your brush into SuperNail Professional Liquid (monomer) and then into a SuperNail acrylic powder to create a ball (2:1 ratio). Form the ball to cover the nail until it is too hard to shape with a brush. Mold the firm acrylic nail enhancement to achieve desired curve. Once, the enhancement is completely cured, file to achieve desired shape.
Available sizes: 0.75 oz., 2 oz., 4 oz., and 16 oz.