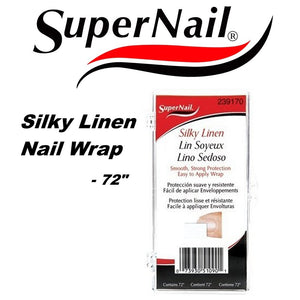 Supernail Silky Linen Wrap - 72"
SuperNail Silky Linen Wrap is a high quality blend of silk and linen that is designed to provide added strength and protection for natural nails or tip extensions.
Each strip of SuperNail Silky Linen Wrap is specially coated on the underside with a thin adhesive for easy application. Silky Linen Wraps reinforce nails with this easy-to-apply silk and linen blend. Protection with a smooth finish.
How to use:
Apply over the natural nail for strength or with tips for short extensions from the natural nail.
Remove polish. Lightly buff natural nails, removing all shine. Cleanse nails removing all dust. If you are not using tips go to step 3.
If you are using tips, before applying wrap, choose the correct size of the tip for each nail. Apply nail glue evenly to the tip and secure to natural nail. Add additional glue to reinforce seam line. Allow to dry. Using buffer, carefully buff seam line smooth. Clip and shape to desired length.
Cut a piece of wrap long enough to extend from the cuticle over the free edge of the nail. Trim the wrap to desired width so that it does not touch the cuticle.
Apply nail glue down one side of the nail, next to but not touching the cuticle. Lay the wrap on the glue and wait a few seconds (pull lightly to be sure wrap is secure). Pull wrap across the nail covering lightly with nail glue. Use orangewood stick to smooth the glue onto the nail.
Allow to dry. File off excess wrap from free edge.
Apply a second coat of nail glue to cover wrap. Be sure all areas have been covered.
After nails are dry, buff surface, be sure to smooth edges with buffer.
Wash hands and continue with manicure.
Contains: 72" of wrap