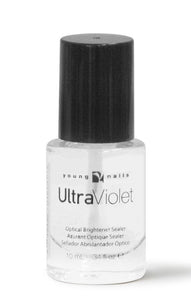 Young Nails Ultra Violet Top Sealer
Young Nails Ultra Violet's optical brightener additives amplifies the color properties of the nail enhancements, while protecting the nails from UV exposure. It's non-yellowing and quick dry properties make Young Nails Ultra Violet the top choice!
Easy application on acrylic or gel after buffing. Air dry.
* Please note that we can only sell this product to licensed professionals or student permit holders. After ordering this product please submit a copy of your license or student permit to epbeautysupply@outlook.com. The name on the license or permit must match with the name on the order or we will be unable to ship out your order, thank you.